Dr. Ilene Elmlinger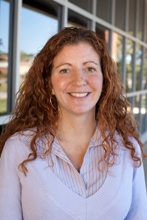 Dr. Ilene Elmlinger
Assistant Professor of Communication Disorders
Additional experiences or positions held:
I worked clinically for a several years before coming to Truman. My experiences included pediatric audiological evaluation / habilitation as well as balance assessment.

What attracted you to teaching at Truman?
Truman offers me an opportunity to not only be part of an incredible faculty but also a close knit community. It was exciting to come to campus and see how many of the faculty were invested not only in their careers but also committing to community work as well.

What do you think makes Truman unique?
The students are what make Truman unique. Having a student body so invested in learning and education makes this institution great.

What do you like best about teaching at Truman?
I like the close relationships that we are able to sustain with our students. As a teacher of multiple undergraduate courses, I have gotten to know many students and it has been very rewarding to watch students grow and mature through their academic experiences.

Research interests:
My main interests lie in early detection of hearing loss and vestibular function. Recently, I have been looking at undergraduate experiences and their impact on students' perceptions of preparation for graduate education and beyond.

How have you involved undergraduate students in your research?
I have worked closely with many undergraduates through Independent Research Projects as well as the McNair program. It has been rewarding to work with students on my areas of interest as well as helping them explore topics they have developed. Many of my students have gone on to present their research at state and university conferences.

What do students seem to like most about your classes?
I try to make all of my classes a place where students feel comfortable asking questions. Often students need additional clarification but are hesitant to ask for fear of judgment, and my hope is that no student leaves with a question because they were embarrassed or thought they would be negatively perceived. I often tell my students that if they are thinking the questions, chances are there are many other students in the class with the same questions and it benefits everyone if you take the risk.